WE WILL NOT BE UNDERSOLD! We provide a 30 day price protection guarantee. Find a lower advertised price on any product on this page and we will match and beat the price by at least 5%.
The Ultimate Swim Up Pool Bar
Only $229.95 will supplies last.
Keep cool this summer with your own "Ultimate Swim Up Pool Bar" and a cool, refreshing drink. Perhaps enjoy a book, a game of cards, or a friendly conversation while kicking back on a hot sunny day. Add a patio umbrella to your "Pool Bar Table" and you're covered!
Easily removed for pool maintenance, relocation or storage. Simply hangs on the deck, no bolting to deck required like other models. Relocate to any other part of the pool with ease.
Reg $695.00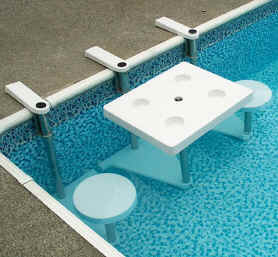 Compare with other similar models selling for $600-$1000. We found a limited number at below wholesale, liquidation prices and bought up the entire stock that we could get our hands on. We are now blowing them out first come first serve- when the stock is gone, it's gone! These units will go quick so act now. Click here for more details, mounting and assembly information.
Solar Pool covers
Please call for the most current price. The two main lines of covers we carry are "COVERTECH" and "HINSPERGER POLY". We will need the overall dimensions that will adequately cover your pool for pricing. Most pools are in the 16' x 32' to 20' x 40' range
Starting From $39 (the is a PST tax exempt item, we don't charge PST to you on solar covers only) CALL FOR $ (604) 464-7727 Please indicate if it is for an inground (come rectangular) or aboveground pool (come round or oval and are slightly thinner poly), overall cover dimensions need to be in feet, and if you would like straight blue solar cover or the newer black & blue solar cover. (More on covers click here)
---
"Dorlon" Spa/Hot tub covers
Spa covers starting from $270
Our most popular 4x2" tapered cover, or 3" Flat covers, starting at $290
Click here for more details or use this following link as it is the downloadable spa cover order form you can print out, fill in and fax back to us for Dorlon Brand spa covers "Order Form"... It does include pricing.
---
Spring, Gas Heater Service
Have your gas heater inspected, cleaned of deposits and serviced, ready to go for the upcoming swimming season for only $89.95 + Applicable parts and taxes. Phone (604) 464-7727
This Price is only guaranteed during the months of February and March (our slower season, good time to get deals prior to the busy season) April - July the pool/spa industry is very busy and several weeks are not uncommon waiting periods for service this time of year.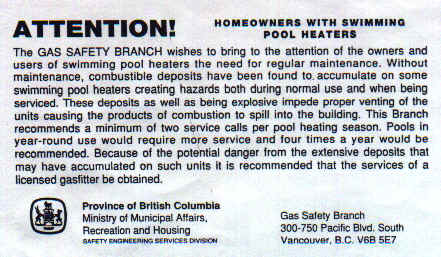 Active maintenance customers in good standing receive this heater service for only $69.95 more than a 20% saving. If your maintenance program is weekly and you prepayed 6+ months in advance it is 50% off or only $45.00 if you mention the seasonal specials on the web.
---
Unicel Cartridge Filters
20% off suggested list price on all models (to many too list). Mention the Seasonal Specials on the internet, and ask for your additional 5% off. If you don't have the replacement pin number. Supply us with length, width, core dimensions, and any other features of the filter like closed top, castle top, cone handle, semi-circular handle, open bottom with threaded fitting (the diameter of threaded fitting) Measurements should be in inches with in 1/16th of an inch. Also the make of spa can help us match your filter. If we have provided a filter in the past for you we probably have the pin # on file for you already. (604)-464-7727