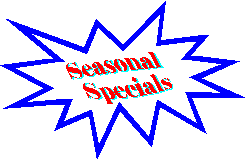 Pages available under the page your currently at, are below.

General Categories Available below
Home
Up
Service & Repairs
Hot Tub Covers
Products
Chemistry Resource
Lots & Lots of FAQ's!
Tips-Must Read
Manufacturer Links
Contact Us
(Below) The picture below illustrates how the pool bar is mounted. This is the bracket the comes with your Poolbar and requires a small hole in the deck for the stainless steel anchor bracket to hang from. The small hole will be drilled into the deck 8-9 inches (20-23 cm) in from the edge of the pool. If your pool uses a plastic or aluminium coping edge 7" wide or narrower, this is the bracket of choice.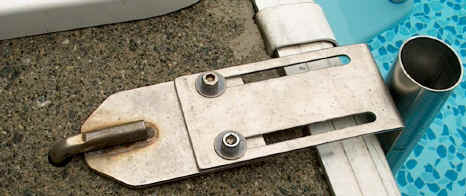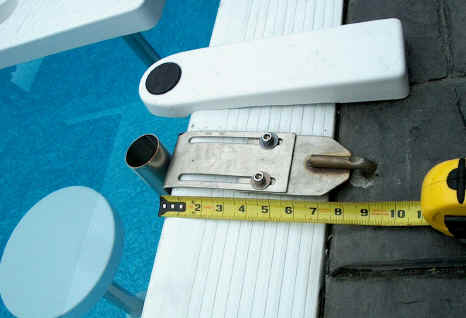 The mounting brackets can not be closer than 21" apart, closer than 21" and the braces of the stools and table will interfere with each other.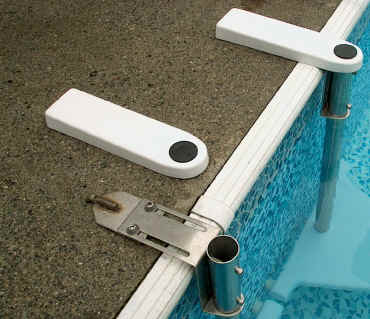 These brackets (below) are also available, for a small additional charge and avoid drilling holes however any brackets that extend beyond 10.5 inches (27 cm) will not be completely covered by the resin deck cover (as pictured above). Designed to adjust from 9" to 13" from pool edge, so that it could be hung from a 12" concrete bull nose coping to avoid drilling into the coping.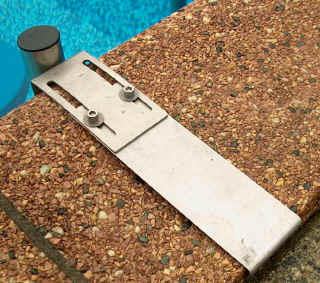 (Below) Easily removed from the pool for maintenance, storage or when using an automatic vacuum device.