Welcome
There are other models, features, colors and details in this web site but here we simplify it down to our most popular line. This keeps the confusion down and your valuable time to a maximum.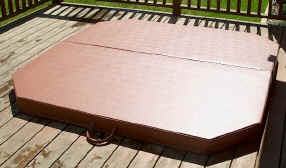 Standard Features on the following covers
Extra strong nylon web reinforced handles, locks, hinge handle and hinge (among the strongest in the industry that I have encountered). All seams folded and stitched.
Aluminum co-extruded C-channel reinforced hinge (Stronger, lighter and more corrosion resistant that steel or galvanized steel C-channels- Cost a little more but worth including in our comprehensive covers)
Commercial quality Marine Grade vinyl, with mold, oil and and UV inhibitors. (same vinyl as most other reputable manufacturers use)
Closed cell type2 foam board (also from the same sources as other reputable manufacturers).
Chemical resistant, reflective underside (helps redirect infared heat back toward water).
Factory Direct Wholesale Pricing
These Canadian prices are stripped down and do not include measuring, delivery or disposal of old cover. Covers are F.O.B. Richmond, B.C. Factory. Applicable taxes extra.
3"x2" tapered spa cover only $320 Up to 84"(7 feet) across.
4"x2" tapered spa cover only $340 Up to 84"(7 feet) across. (this cover is my recommendation for outdoor weather exposed applications)
4"x3" tapered spa cover only $360 Up to 84"(7 feet) across.
3" Flat spa cover only $340 Up to 84"(7 feet) across. (this cover is my recommendation for indoor or undercover applications)
Surcharges and options
If your cover is longer or wider than 84" in length or width, up to 96" (8 feet) then add $20 to the above prices.
Upgrade to high density foam add $20 to the above prices.
(this increases the strength of the cover significantly and insulating value slightly, where as adding thickness adds to insulating value significantly and strength slightly. Consider upgrading density if your cover is over 90" and/or snow, pets or toddlers may issues)
If you would like to add 1) Local measuring (Includes FREE no obligation in home demo while there), 2) Local delivery and/or 3) **Local disposal to your order, add $10 per service. (Note: we only take responsibility on mis-measured/mis-fitting covers if we measure for the cover or the cover is not built to the ordered measurements. Local is in reference to Vancouver, BC lower mainland, some outskirt areas of GVRD may incur delays in offered services, see below for options) RECEIVE ALL THREE SERVICES FOR ONLY $20**, BILLABLE ONLY WITH THE PURCHASE OF OUR SPA COVERS.
**SORRY, MAY AND JUNE ARE EXTREMELY BUSY MONTHS,
NO SPA COVER DISPOSAL SERVICE AVAILABLE DURING THESE MONTHS.
Shipping Information
Local Cover Delivery only $10 If you're in the Vancouver lower mainland. (included at no extra charge our all inclusive, no obligation in home demo prices, which are provided on site, it also includes measuring and disposal of your old cover at no extra charge. You pay nothing until you cover is delivered by us also!)
**Local Old Cover Disposal only $10 (Subject to W.C.B. limitations and regulations. The old cover should be out front and ready to be loaded into our truck on delivery day, especially if it is heavy and/or needs to be carried a long distance or thru a house to be disposed of. We usually have only 1 guy making the delivery/pick up.)
We don't frequently service some areas like Surrey, South Surrey, White Rock, Aldergrove, Langley. To prevent long delays that may occur if you're in one of the outskirt areas we don't service frequently, you may want to co-ordinate your own freight or pick up the cover yourself and save. If you would like to pick up the cover from the Richmond, B.C. factory or co-ordinate and pay your own freight and/or have the cover shipped collect we can help you co-ordinate this.
In the event you would like to have the cover shipped prepaid freight. We get accurate freight estimates from various shipping companies only as a last step to processing a cover order. Otherwise too much time is spent getting estimates rather than processing orders.
Average Freight charges to you will range anywhere from $10 to $150 with the average freight charges in BC ranging from $50 to $100 and $80 to $150 outside of BC but still inside Canada. You're responsible for your own old cover, we can't help you dispose of it in this case.
If you are outside of Canada you will be required to organize and pay your own freight FOB the Richmond, B.C. Canada, factory.
Start order process
Click the appropriate link below, colors and measuring information included in following link.
NOTE: NO ORDER WILL BE PROCESSED UNTIL ALL DETAILS VERIFIED DIRECTLY WITH PERSON ORDERING via PHONE BY US- WE WILL CALL AND GO OVER ALL DETAILS PRIOR TO PRODUCING/BILLING YOUR COVER AND GET PAYMENT INFORMATION AT THAT TIME.
Please note, we can not dispose of your old spa cover in May or June, as these are the busiest months of the year and we are limited for space, we have products coming in and going out. In addition, this is the time of year we are trying to focus on the swimming pool season and have limited resources to deal with the spa covers this time of year.
or
Print out an order form and fax to us.
The above file does require Adobe Acrobat Reader

Get more details on the spa cover products we offer?
2 primary links to follow, read/scroll down the following linked page(s) click "next" at the bottom to get all the info we provide in a logical order. At the end you will be brought back around to an online order form.