The Ultimate Swim Up Pool Bar
Keep cool this summer with your own "Ultimate Swim Up Pool Bar" and a cool, refreshing drink. Perhaps enjoy a book, a game of cards, or a friendly conversation while kicking back on a hot sunny day. Add a patio umbrella to your "Pool Bar Table" and you're covered!
Easily removed for pool maintenance, relocation or storage. Simply hangs on the deck, no bolting to deck required like other models. Relocate to any other part of the pool with ease.
Click here for Mounting Information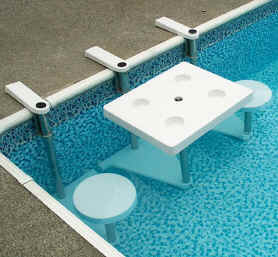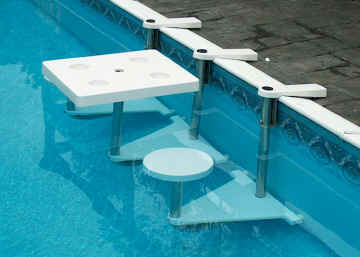 Compare with other similar models selling for $600-$1000. We found a limited number at below wholesale, liquidation prices and bought up the entire stock that we could get our hands on. We are now blowing them out first come first serve- when the stock is gone, it's gone! These units will go quick so act now.
Manufactured in Canada, by Poolsider Int. Inc, entirely from Stainless Steel & Resin components this product provide years of poolside relaxation.
The Swim up pool bar is designed for inground pools only. It is not designed for aboveground pools.
Includes 2 stools and 1 table

Stainless steel & resin construction

Accepts standard patio umbrella

Hangs from pool deck.

Easy to assemble, Easy to remove

Mount anywhere along pool edge

Mount in any configuration

For In-ground pools only

See web site for mounting info

Custom Adaptor Brackets available

Manufactured in Canada.

Originally came with 5 year manufacturers warranty

Many Years of Enjoyment!
Reg $695.00
Now Only $229.95 will supplies last!
A couple of years ago I was in my distributors and saw a "Swim-up Pool Bar" that I had to have. The price, however, was not very appealing… $938 big ones, suggested retail. Even at my wholesale cost, I could not justify the price.
Being in the right place at the right time, I found a Swim-up Pool Bar manufacturer liquidation. They had 40 Canadian manufactured pool bars being sold at less than 1/3 the normal wholesale price. Needless to say at those prices, I negotiated and bought up every piece they had. I am now offering you, first crack at this terrific deal. There are about 32 units left (after my own, a few select customers that have already purchased theirs, and a couple for possible replacement parts for those down the road). To the best of my knowledge, I have the last and only source on these pool bars in the lower mainland.
Now is your opportunity. When these are gone… they're gone! At $229 you can't go wrong. After my stock is gone, the best price I can do, on something comparable, is $600-$700. First come first serve, act quickly because I don't anticipate I will have these in stock for long. If, in a couple of weeks, there are any Swim-up Pool Bars left, they will be presented to the general public for sale.
Act now!!

604-464-7727