Like these? More valuable tips and suggestions here
Poor Maintenance
Lack of calcium, low pH and Alkalinity (saturation Index very low) in this case deteriorated plaster, grout and concrete surfaces. This aggressive water dissolves calcium in concrete, plaster & grout leaving a porous plaster surface that harbor algae and bacteria. It also allows water in behind tiles, then the freezing water cracks the concrete and pops off tiles with time it got to this point. The black specs are what we call Black algae.
It is important to maintain proper pH, Calcium and Alkalinity levels in your pool. Especially in the winter on a plaster pool. Cold water is more aggressive to plaster than warm water with the same chemical levels. Calcium is not relevant to the surface of fiberglass, copper, vinyl, acrylic or PVC. This is a very controversial subject and many will argue otherwise. I personally don't put calcium in my vinyl pool or fiberglass/acrylic spa. If it was a plaster pool or spa then I would.
---
Calcium does not protect against corrosion


No it doesn't. The pH above 7.0 & Alkalinity prevent corrosion to metal. If calcium levels are too high or the saturation index is on the scaling side calcium will scale out of solution on hot surfaces like heaters, Sun exposed tiles etc...
Call if you have questions or concerns. I have industry publications to back all I claim. 604-464-7727
---
Don't let your sanitizer levels get to high to long.
This is a section of pipe that the chlorine/bromine chewed away. Normally smooth. If chlorine or bromine can do this to PVC imagine what it can do to your skin and hair if not maintained properly.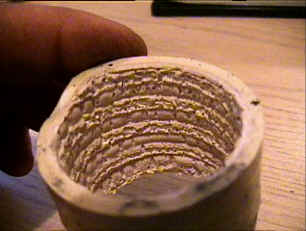 This is from the same thing. It the underside of a spa cover. Notice the puckering and blistering.
These two pictures above show what high levels of chlorine and bromine can do to the underside of a spa cover. The nylon web handle ripped. This is why our inside handles are not only nylon web reinforced but are also covered with vinyl to protect against chemical damage increasing their longevity. (These are not our covers, our zippers and handle have more protection against chemicals)
This next picture is the same problem. Too high of sanitizer. Click on image for close up.

The underside of the cover was oxidized away so bad that you can see through to the poly wrap around the foam inserts and even the poly plastic is damaged and cracked. Much beyond blistering and puckering of the picture under the pipe photo.
---
Heater installations
Heater pipes should come down out of a heater in copper or CPVC (grey) temperature resistant pipe as heat rises and can cause heat warp damage to regular PVC pipe. Also don't use rubber couples to connect pipe if you have a choice. Rubber couplers are known to come apart or get loose with time especially when heated and cooled continuously. Access to the top of the heater should also be maintained. The first photo is a picture of the original heater installation by a licensed plumber/gas fitter. The second photo is the corrected version when we were done.


We did not re-route the gas line as we are not licensed to do so. We did have a gas contractor come in and correct it after this picture was taken.
---
Like these?
More valuable tips and suggestions here